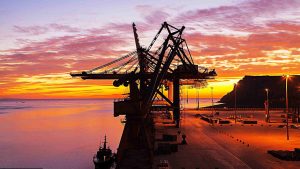 A number of projects carried out under the China-Pakistan Economic Corridor (CPEC) being implemented in Pakistan have helped the country in generating more job opportunities, encouraging socio-economic development and improving people's livelihoods.
This flagship programme has made the best use of the natural resources and provided effective, efficient and sustainable strategies for the development of Pakistan. It further introduced many exciting new opportunities for foreign investors and attracted billions of dollars in foreign investments.
Minister for Planning, Development and Special Initiatives, Ahsan Iqbal has also stressed the importance of CPEC in Pakistan's development. It is a key component in achieving sound economic development and is considered a game changer in the region.
The CPEC projects are progressing at a fast pace, bringing in more private investments, strengthening cooperation in science, technology and agriculture, and initiating an era of industrialization through the establishment of special economic zones (SEZs).
The people associated with trade and commerce have higher prospects for enhancing national production and providing plenty of employment opportunities by tapping into the commercial markets of neighbouring countries.
Both countries are making fast progress on the development of Gwadar port and Gwadar free trade zone, which are meant to promote regional connectivity and economic cooperation. This will not only benefit the people involved but also earn a lot of foreign exchange for Pakistan.
With continued efforts, CPEC will enhance connectivity and trade linkages between Pakistan, China and the rest of the region through a network of roads, rail, fibre optic cables, energy pipelines, industrial clusters and Special Economic Zones. It is not only an opportunity to address the country's existing challenges but also a golden moment to emerge as a hub for economic activities in the region.