WHAT IS CPEC?
The China-Pakistan Economic Corridor (CPEC) is an assortment of infrastructure projects currently under development in Pakistan. The cumulative value of all CPEC projects is $62 billion with future projects expected to amplify the valuation considerably. CPEC intends to massively improve the Pakistan economy by rapidly enhancing the country's infrastructure including modern transportation networks, energy projects, and special economic zones.
Although CPEC work is still in its infancy stages it has already helped Pakistan ascend the global competitiveness scale. According to a report by PWC Pakistan will be the world's 20th largest economy by the year 2030 and CPEC will result in the creation of over 2.3 million new jobs.
CPEC has significant strategic and economic importance for China and Pakistan as it links China with markets in the Middle East, Africa and Asia. Xinjiang, China's largest province, will be connected with the port of Gwadar in Balochistan.
Launched in 2015, CPEC is the flagship project of BRI. Declared by China's President Xi as 'the project of the century', the Belt and Road Initiative (BRI) will deliver an estimated $5 trillion worth of investment into the infrastructure of 52 countries.
BRI will reinvigorate the old Maritime Silk trading route and increase connectivity between the Asian, European and African continents. Pakistan is one of the countries that will benefit significantly from BRI, with the port city of Gwadar in a prime location for investment.
The CPEC map of major projects currently in development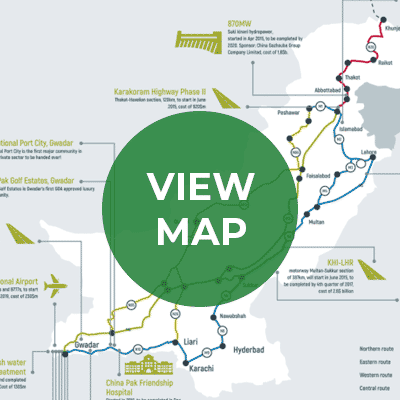 Please note that we have marked only the major projects involved in CPEC.
HOW DOES CPEC BENEFIT PAKISTAN?
Ongoing CPEC projects offer many advantages for Pakistan in terms of infrastructure that will drastically transform the country for the better. As the gateway city to CPEC, improvements begin at the main shipping port of Gwadar. A huge $4.8bn injection will upgrade the town, making it a modern port city of international standards, a vibrant metropolitan city and South Asia's busiest trading hub by 2023. 50,000 professional jobs are expected in the future bringing with them significant spending power that will drive the regional economy in terms of goods, services and development.
With the expected population growth, it is necessary for CPEC to account for the power consumption needs of the local community. The new Quaid-e-Azam Solar Power Park in Bahawalpur is expected to generate 100 MW of clean energy for Pakistan. An additional $35bn is being spent by China to construct 19 new power plants.
First-rate transport networks are very important for any developing country. CPEC has earmarked millions for the establishment of new roads and train links as well as the improvement of current networks, with over 2,000 km of extensive construction connecting China to Gwadar.
In order for Pakistan to be propelled into the future there is the need for a robust digital and technological solution. Growth of the country's IT infrastructure will be enhanced by over 820 km of fibre optic cabling. China is also rolling out additional support for 4G mobile networking with $225 million of investment that will in turn boost smartphone usage. Google has already cited Pakistan as one of the fastest growing digital populations in the world.
Read more about the benefits of CPEC here.
CPEC PROJECT FOCUS SUMMARY
Gwadar: New and redeveloped sea port, airport, hospitals, schools and communities

Energy production projects including coal, wind, hydro power and solar power

Improved roads & highways, railways and aviation connectivity

Special Economic Zones (SEZs) and industrial parks

820-kilometer fiber optic cable project to bring Pakistan into the digital age

TIMELINE OF CPEC PROGRESS:
April 2015
Pakistan and China signed an agreement to commence work on the $46 billion of development projects. CPEC is announced as "an economic and development project for the benefit of the people of the region".
September 2015
Completed projects include a bypass consisting of two large bridges and five kilometres worth of tunnels.
November 2016
On 13 November 2016, CPEC became partly operational when Chinese cargo was transported overland to Gwadar Port for onward maritime shipment to Africa and West Asia.
March 2017
An agreement is settled to build $1.5 bn oil refinery, irrigation projects, a $2 billion motorway spanning from Chitral to DI Khan.
July 2017
$1.8 billion Sahiwal Coal Power Project became fully operational.
September 2017
More than $14 billion worth of CPEC projects were under construction.
March 2018
Pakistan began construction of many energy CPEC projects while focus switched more to hydro-power projects.
October 2018
Saudi Arabia enters partnership within CPEC countries to help finance three road infrastructure and energy projects. Three agreements worth $16.1 million is divided to fund health and education projects.
February 2019
Saudi Arabia commits $20bn to Pakistan and CPEC including the building of a new oil refinery in Gwadar. A new shipyard is commissioned while the construction of a new mega airport for Gwadar is set to begin in April.
March 2019
Prime Minister Imran Khan performs ground breaking ceremony to initiate the new Gwadar Airport construction. The state of the art airport will be the biggest in Pakistan at the cost of $230 million.
August 2019
New planned railway network from China and Afghanistan to Gwadar deep sea port under China Pakistan Economic Corridor (CPEC). The entire package is worth around $2.3bn.
January 2020
The first Liquefied Petroleum Gas plant in Gwadar becomes fully functional
October 2020
The construction of the 392-km Sukkur-Multan Motorway under the China-Pakistan Economic Corridor (CPEC) completed
By 2030
CPEC is fully completed, bringing peace and prosperity to two nations while promoting spectacular economic growth within Central Asia and South Asia.
To keep up to date with all CPEC news stories, click here