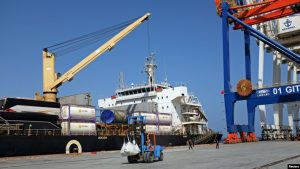 Chinese President Xi Jinping's recent visit to Saudi Arabia proved to be a breakthrough for the China-Pakistan Economic Corridor (CPEC) project as experts are hopeful that it will most likely bring in more investment from the KSA. 
The ongoing massive project, known as the China-Pakistan Economic Corridor (CPEC), is the flagship enterprise of the global Belt and Road Initiative (BRI).
Saudi Arabia had earlier expressed interest in expanding its global alliances beyond its longstanding partnership with the West. The visit will benefit Pakistan greatly at a time like this when Saudi Arabia is already seeking collaborations. 
During the visit, Saudi Arabia and China sealed 35 deals worth more than $30 billion and signed agreements on harmonising the implementation of Saudi's Vision 2030 and China's BRI. 
China has already pledged more than $60 billion under the CPEC project in energy, agriculture, IT, infrastructure and many other sectors in Pakistan. In the South Asian nation, CPEC is a sprawling package that is being viewed as a massive development program which is sure to bring prosperity to the region.  
Pakistan's former ambassador to China, Naghmana Hashmi said, "Saudi Arabia is interested in becoming part of CPEC by investing heavily in it. The growing friendship between China and Saudi Arabia will benefit Pakistan as the country has very good relations with both, and both are pillars of strength for us."
Experts are already viewing the recent visit as a great convergence point between the three countries  which will have a constructive and positive impact, specifically for Pakistan. 
They are quite hopeful that the visit will provide the momentum required to propel Saudi investment in the CPEC projects. Moreover, it will contribute to raising the pace of economic and investment cooperation for the CPEC.