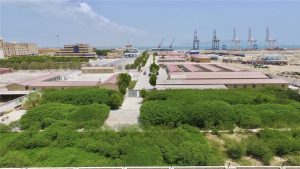 China-Pakistan Economic Corridor (CPEC) has established four special economic zones (SEZs) which will create nearly 575,000 direct and over one million indirect jobs across Pakistan. The development of these zones has been a top priority for the government.
There have been a total of nine Special Economic Zones (SEZs) identified in the area, out of which four are in the development process against an investment of $500 million while the remaining five SEZs would be completed by 2030 with an investment of $1 billion.
These economic zones are being set up in Khyber Pakhtunkhwa, Punjab, Sindh and Balochistan and are meant to generate massive employment opportunities for the people.
A research was conducted to assess employment opportunities in four SEZs including KP's Rashakai, Sindh's Dhabeji, Punjab's Allama Iqbal and Balochistan's Bostan, to determine potential jobs and industries.
Hence a variety of potential industries are being set up in the CPEC special economic zones including food processing, cooking oil, ceramics, gems and jewellery, marble, minerals, agriculture machinery, iron and steel, motorbike assembling, electrical appliances and automobiles.
The Rashakai SEZ has already attracted over 2,000 domestic and international investors from various economic sectors and is playing an important role in promoting rapid industrialisation in the country.
It is expected that the industrial collaboration with China will make Pakistan a manufacturing powerhouse in the area while the development of industrial zones would bring numerous investment opportunities for local businessmen.
The SEZs offer job opportunities in various fields for which the local youth will be given proper training before the inauguration of the industrial phase. Besides that, these special economic zones are meant to promote the local industry to point the country towards sustainable economic development.