1. Ensuring Pakistan is Business Friendly
The Prime Minister has worked tirelessly to encourage inward investment from wealthy governments and individuals. During his recent trip to the USA for a meeting with President Donald Trump he invited overseas businessmen and investors to benefit from the economic and business opportunities afforded by Pakistan's strategic location and the connectivity to the broader region.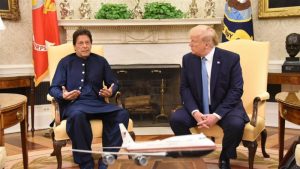 He met a group of prospective investors led by Javaid Anwar, a leading Pakistani-American businessman, at the Embassy in Washington DC.
Prior to that he wrote to UAE President, Sheikh Khalifa bin Zayed Al Nahyan. The letter addressed bilateral relations between the two countries. It suggested ways in which they could work together to address a number of issues of common concern, as well as the latest regional and international developments.
The emir of Qatar, Sheikh Tamim bin Hamad Al Thani, came to Islamabad to hold talks with Imran Khan. Sheikh Tamim is the latest Gulf leader to visit and promise financial investment in Pakistan's economy.
Leading Chinese firms have told Imran Khan they will invest USD 5 billion in various sectors over a period of three to five years.
The commitments were made by a Chinese delegation that comprised over 55 executives and heads of leading companies when they met Mr Khan and other high-ranking officials from the Pakistan government.
The meeting took place at the Prime Minister's Office (PMO) and China's Ambassador to Pakistan Yao Jing also participated.
The Chinese delegation represented key sectors including construction, power, transportation, information technology, and technological research.
Later, a press statement from the PMO said that executives of the leading Chinese firms "expressed confidence" in the business-friendly policies of the Pakistan government and pledged to invest USD 5 billion in the next three to five years in several small and medium-size industrial sectors.
One reason for the renewed confidence in Pakistan is Imran Khan's assertion that Gwadar port, restored, developed and fully-functioned under the China Pakistan Economic Corridor, has given a strategic position to Pakistan in the region, enabling it to attract investors from across the world.
He said that it is the first time in Pakistan's history that a big number of investors are showing interest in seeking business opportunities in Pakistan because they know they will be able to make money from the Gwadar port which has improved connectivity and shrunk distances.
He added that his government has created a board of investment working in the prime minister's office under his direct supervision.
2. Making Pakistan Green and Clean
This is one of Imran Khan's major visions for the country. His Government's reform agenda is focusing on the economic sector and environmental protection. Water, solar and wind energy production has the highest priority in the renewable energy policy. The Prime Minister has launched a coordinated strategy involving several government departments. The aim is to explain through education the issues affecting climate change, including lifestyle choices, sustainable production methods and consumption patterns.
Production of green energy will increase by 60 percent till 2030. The Prime Minister believes Pakistan's young people have a critical role in making it happen. The government wants youth to play an effective role to save Pakistan from the negative effects of climate change. Student networks are being asked to increase awareness. Young people will be made environmental champions in their own communities.
A recent seminar in Islambad, organised jointly by Muslim Aid Pakistan and National Council of Social Welfare, recognized the Prime Minister's vision for a green and sustainable future. It brought together experts from different walks of life who discussed the effective participation of youth in these initiatives.
More than 300 prominent social activists, parliamentarians, representatives of civil society, youth organizations, students, civil servants and other stakeholders attended the seminar.
3. Improving life in Balochistan
Balochistan is the largest province of Pakistan, covering 44% of the country's area but with only 5% of the total population. It is also the poorest region, although its strengths lie in its wealth of natural resources, a coastal belt which is 1100 km in length and the rich mineral deposits. The China-Pakistan Economic Corridor, which runs through much of the province is a game changer for Balochistan. It is a major stimulus, promising rapid economic growth and massive infrastructure development.
It is home to the port of Gwadar, which lies at the southern tip of the CPEC and is regarded as the jewel in the crown of the $62 billion project.
Imran Khan's government has recently launched a number of major initiatives which will benefit the area. The first is the distribution of health cards providing generous health insurance for the families who live in Gwadar. In addition, the government said it is planning to install a new desalination plant. Both were announced at the groundbreaking ceremony for Gwadar International Airport. The construction of the airport, the biggest in Pakistan, will be completed within three years at the cost of $256million.
4. Increase stability in the region
"We are confident that this visit will help in ushering in an era of stability and prosperity in South Asia and the broader region. In this common objective, both Pakistan and the United States will be joint beneficiaries," said the foreign minister," Foreign Minister Shah Mehmood Qureshi, while addressing a seminar about Pakistan-US Relations. He was speaking about Imran Khan's visit to meet Donald Trump.
Mr Qureshi added, "Mr Khan in his talks with President Trump will explore the possibility of expansion in trade and economic ties. Mr. Qureshi said this was aimed at achieving "long-term economic growth, stability, and human development in consonance with the vision of Naya (New) Pakistan".
Further evidence of Imran Khan's desire to roll out his policy of a peaceful neighborhood and a vision of peace, progress and prosperity emerged when it became known his invitation to meet Donald Trump was arranged by Saudi Crown Prince Mohammed bin Salman.
Imran Khan hopes he will leave the USA with renewed trust and much-needed foreign investment. A senior member of Khan's Cabinet confirmed the role of the crown prince in setting up the meeting, saying that he had used his personal friendship with Jared Kushner, Trump's son-in-law.
Kushner's friendship and support for Crown Prince Salman has been one of the most important bonds that has helped draw Trump into the embrace of Saudi Arabia as one of his most important international allies. Now the friendship seems to have come in handy for Pakistan.
Imran Khan took a high-level delegation to Washington, which includes ministers of his Cabinet, commerce adviser, financial advisers, the foreign minister and, in a first, the country's powerful army chief, head of intelligence and military spokesperson.
The purpose of Khan's visit is to take Pak-America relations out of the cold storage and request the US to reimburse the $800 million owed to Pakistan.
5. Growing the Economy
Imran Khan believes that industrialization will help the country generate capital through exports, create employment and lift people out of poverty. "We are following China to strengthen our industrial base, by seeking their guidance and help in several sectors," he said.
Due to the lack of industries, Pakistan's economy mainly depends on agriculture, but production in this sector is far less than in many other countries. Most Pakistani farmers use old techniques to raise their crops and animals. Khan revealed that his government is going to announce an agriculture policy soon to benefit farmers, under which the government will acquire modern technology from China to develop the sector.
"China's per acre production in the agriculture sector is three-times higher than that of Pakistan, we want to adopt their technology and for this, we have signed a Memorandum of Understanding with China," said the prime minister.
He added that his government is focusing on strategic sectors to augment economic growth including academia, policymakers and technical experts from the education and skills development.