Invest in Gwadar, the symbol of emerging Pakistan
A new central business district, $5 billion investment into power plants, $1 billion into water desalination plants, tourism zones, industrial parks, shopping malls, luxury resorts, waterfront golf courses and more, all within Pakistan's 1st weapon-free and tax-free city.
Gwadar is set to be South East Asia's new hub for trade, tourism and investment. The new international airport, mega new power plant, tax free zone, and LPG terminal are all proof that this is all well and truly underway.
Make a smart investment securely in the city of the future with Gwadar's leading developer CPIC.
The time to act is now!
The key highlights from the Master Plan are:
2 million population by 2050
Pakistan's first tax and weapon free city
Third largest city in Pakistan by economic output
$30 billion economy by 2050
$15.000 GDP per capita by 2050 - 1000% of Pakistan's average
1.2 million jobs and over 250,000 households to be created
More trade through its port than Karachi within this decade
Upcoming Consultation Events
Key highlights from the Gwadar Master Plan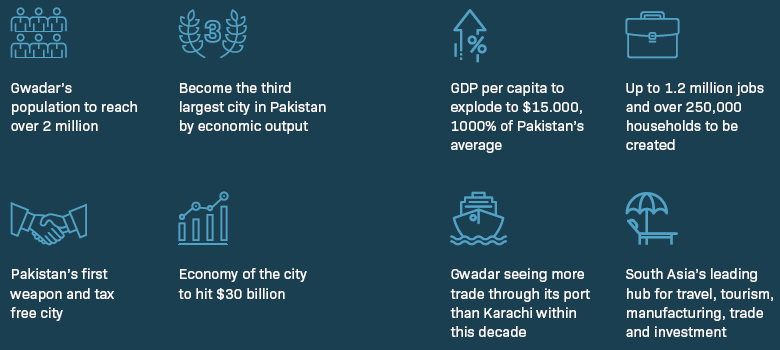 What will you learn about the Belt and Road Initiative
Dubbed the 'Project of the Century', China's $4 trillion Belt and Road Initiative will deliver a reinvigorated and modernised Silk Road reconnecting countries and continents.
Focused on strengthening infrastructure spanning Asia, the Middle East, Europe and Africa, the BRI will enhance trade flows for China and spur long-term economic development.
What you will learn about CPEC and Gwadar
Valued at $62 billion, CPEC includes projects to improve Pakistani infrastructure and deepen ties between China and Pakistan.
CPEC is the largest unilateral foreign direct investment from one nation to another, and Gwadar is the jewel in its crown. Find out why, and what this means from an investment perspective at our next seminar.
Why invest with CPIC?
CPIC is built on three core values: trust, being transparent and acting with sincerity. We want to bring positive change to Pakistan, through building safe, sustainable communities that encourage cohesion, enable businesses to thrive and offer a positive lifestyle. CPIC is the only company completing infrastructure and handing over plots to investors in the history of Gwadar!
CPIC are proud pioneers who want to be even more than a reliable and trusted developer. We want to be a positive catalyst, helping to revolutionise Pakistan and Gwadar's real estate market and bringing it into the 21st century. By making International standards of transparency the norm we can encourage more foreign investment in the country.
Find Out More