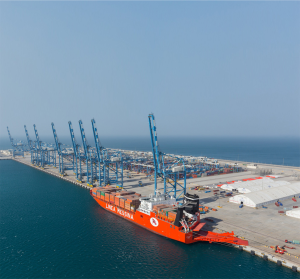 Gwadar Port achieved a momentous milestone on May 24th, as it successfully commenced its first-ever direct export to China. This achievement is a significant turning point in the history of Gwadar, symbolising its growing importance in the China-Pakistan Economic Corridor. The inaugural shipment consisted of five containers carrying pharmaceutical raw materials, which departed from the Gwadar Free Zone and are currently en route to Tianjin, a major port city in China. 
The recipient of the shipment, Hangeng Trading Company, expressed great enthusiasm for this breakthrough and revealed plans to boost import and export volumes starting from June. The completion of this shipment within an estimated 30-day timeframe highlights the efficiency and potential of Gwadar Port as a key platform for fostering bilateral cooperation and facilitating the objectives of the Belt and Road Initiative.
The initiation of direct exports between Pakistan and China is poised to have a positive impact on Pakistan's economy, particularly in terms of increasing remittances. This development is expected to attract more investors and companies to Pakistan, as they witness the seamless export facilities between the two countries. Notably, the processing of pharmaceutical raw materials for the shipment involved the employment of 30 local workers from Gwadar. This historic achievement has sparked celebrations in the Gwadar Free Zone and among all stakeholders.