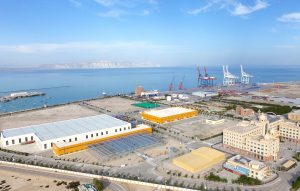 A 330 MW power plant inaugurated by the Prime Minister Shehbaz Sharif, as part of the CPEC Block II has been finalised by Hubco company in district Tharparkar.
At the event, the Chief Minister of Sindh, Syed Murad Ali Shah, briefed him in-depth regarding the CPEC projects. The CM explained how the economy of Pakistan will be positively impacted by the CPEC project.
He maintained that producing power from Thar Coal needed a substantial road network, bridges and an airport.
According to the Chief Minister, the Sindh government invested 750 million dollars in developing Thar's infrastructure. He stated that Thar coal contains 175 billion tons of coal reserves and a collective of 13 blocks, of which Block II and Block I were in progress.
He further added that the coal mine power plant under CPEC began in 2014, and the federal government gave a sovereign guarantee for the plant in 2015.
According to the Chief Minister, this power project's capacity for producing energy will rise to 2640 MW by the end of the year.
He also declared that, with the profits generated through the Thar coal projects, 23 schools have been built and 4061 students are enrolled. A hospital with 120 beds has also been built in the district for the welfare of the inhabitants.
Considering the fast pace of the work being carried out, CPEC will soon fulfil its mission of rapidly upgrading Pakistan's required infrastructure and strengthening its economy by the construction of modern transportation networks, numerous energy projects, and special economic zones.
Due to its immense geopolitical and economic importance, CPEC is already attracting a large number of investments. It has contributed to the high-quality green and sustainable development in Pakistan and will continue to push for more such cooperation to promote sustainable and green development in the country.