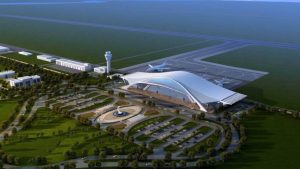 The first test flight at the New Gwadar International Airport (NGIA) has been scheduled to take place within 60 days after more than 55 percent of the multi-tiered works have finally been completed within the allotted period.
According to the Gwadar Development Authority (GDA), in light of the government's increased efforts and the coordination of all stakeholders, including the Civil Aviation Authority, Pakistan and China Communications Construction Company (CCCC), the construction of NGIA, costing Rs 51.284 billion, will progress faster than ever.
As per the details the installation of state-of-the-art security features, which is a key component of NGIA, is also progressing very rapidly with the installation of 39 hold or hand baggage scanning machines. The scope of work includes procurement/installation of Dual View/Computed Tomography (CT) Hold & Hand Baggage Scanning Machines at NGIA by CAA.
In an effort to ensure that appropriate security measures are being maintained, the NGIA will also undergo regular inspections by the International Civil Aviation Organization (ICAO) and other security agencies like the European Citizen Action Service (ECAS), and Transportation Security Administration (TSA).
With the installation of new machines, the reliability factor related to the screening of passengers will also improve. As a result, the confidence of the airline operators will also increase concerning the security of passengers and baggage handling systems.
The safe airport will attract foreign airlines to begin operations to and from Gwadar, which will boost the local economy and benefit both CAA and Gwadar. Additionally, the speed of NGIA's complete scope of work includes communication, civil, structural, mechanical, and engineering work.
As per the details, fencing around the NGIA was successfully completed, with the combined efforts of expert teams of CCCC and CAA. The remaining few tasks with regard to the construction of the ATC tower, taxiway, runway, apron, complex registration office, operational building, PTCL fibre optic, grid station, desalination plant, water supply and security system have accelerated speed to the maximum.
The New Gwadar International Airport, which spreads over an area of 4,300 acres, will primarily entertain the entire load of national and international passengers. After the construction of the cargo complex, it will have a new capacity to handle a variety of cargo items, in its second phase.
It will be one of the biggest airports in Pakistan and will also become the nation's second airport capable of handling narrow-body aircraft such as ATR 72 and Boeing B-737, as well as wide-body aircraft such as Airbus A-380 and Boeing B-747 for local and international routes.