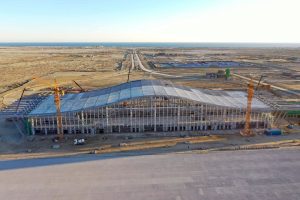 The New Gwadar International Airport (NGIA) will start conducting test flights in March 2023. It is a new greenfield airport being built in Gwadar, Pakistan, managed and operated by Pakistan Civil Aviation Authority (PCAA).
It is a joint venture between Pakistan, Oman, and China and is expected to carry out domestic and international operations.
The development of the new airport is a part of the $56 billion China-Pakistan Economic Corridor (CPEC) development, which is a key component of China's One Belt One Road (OBOR) initiative.
The construction of the main terminal, 4600 tons of steel structure is completed whereas the construction of the metal welded roof, and interior, and the installation of electromechanical equipment are underway.
The $246m long greenfield airport, which is believed to be one of the biggest in Pakistan, is being built across an area of 4,300 acres. It will also become the nation's second airport capable of handling A380 aircraft.
Additionally, it will also be capable of handling a combination of ATR 72, Airbus A300, Boeing 737, and Boeing 747 for domestic as well as international routes.
The airport's construction is expected to take place across several phases. The passenger terminal building of the project is expected to be completed by June 2023 while all the work related to air traffic control is scheduled for completion by March 2023.
The airport is being developed under the guidance of the Pakistan Civil Aviation Authority (PCAA) and will likely operate under the open sky policy.
Its development is considered to be a very crucial part of the expansive China-Pakistan Economic Corridor (CPEC) project.
Hence, the airport will not only boost the development of Gwadar but also serve as a gateway for encouraging trade between Pakistan and China.
It will also boost the region's geopolitical status transforming it into an economic powerhouse with numerous investment opportunities.