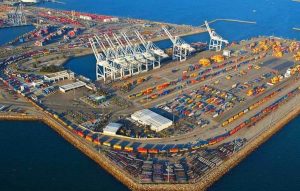 Gwadar port is expected to become the largest transportation hub in South Asia thanks to the ongoing extensive initiatives. The rise of international trade and business, regional connectivity, and Pakistan's economic success are all dependent on the Gwadar port.
PM Shehbaz Sharif's recent visit to China was a testament to the bright prospect of CPEC Gwadar. Prime Minister Muhammad Shehbaz Sharif met with President Xi Jinping at the Great Hall of the People during which President Xi stated that China and Pakistan are excellent friends and partners. In recent years, the two nations have supported each other during the global crisis time and time again.
China has always given Pakistan high priority in its neighbouring diplomacy and regards their relationship as long-term and well-planned. Both countries are ready to collaborate with each other to raise the bar for CPEC's strategic cooperation.
The two countries are prepared to further advance the China-Pakistan Economic Corridor and make full use of the joint venture, making CPEC a blueprint of high-quality Belt and Road cooperation.
The progress in the construction of auxiliary infrastructure for Gwadar Port will be beneficial in unleashing its potential in boosting interconnected development in the region. PM Shehbaz Sharif said that CPEC has significantly improved the economic and social development of Pakistan.
Both countries are set to put further efforts into promoting high-quality Belt and Road cooperation and other important infrastructure projects. With the major projects under completion and more and more getting completed, investors, seekers of jobs and trading companies will seek residence in Gwadar to expedite their financial income and trading.
According to estimates, CPEC will make use of the Gwadar port to generate transit revenue of US$ 70 billion annually. It would create huge employment opportunities for the locals. As a result, the increased trade and commerce, particularly in Balochistan province will bring economic prosperity in Pakistan.