The Prime Minister Shehbaz Sharif, on Saturday, paid a one-day visit to Gwadar where he stressed the importance of the China-Pakistan Economic Corridor (CPEC) with Gwadar Port as its main component.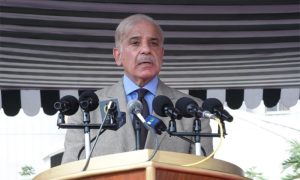 This is the Prime Minister's second visit to the coastal town of Balochistan in one month. During his visit to Gwadar, Shehbaz Sharif was briefed about the on-going projects by the provincial officials.
Talking about the success of the CPEC project, Shehbaz Sharif said, "It wouldn't be an overstatement to say that the success of CPEC and Gwadar Port are directly proportional to Pakistan's better economic future."
The PM stressed that CPEC projects must be completed promptly in the national interest.
He also acknowledged the vital role the Pak-China friendship has played in the development of Gwadar, describing China as Pakistan's closest friend who has consistently supported Pakistan at diplomatic and economic levels.
Shedding light on the necessary measures taken by the government to mitigate the difficulties faced by the people of Gwadar, the prime minister announced the provision of 2,000 engines to the fishermen of Gwadar in order to support and encourage them.
He also highlighted the presence of a long coastline which held enough potential for Pakistan to boost the maritime economy.
With the new Gwadar Master Plan in blueprint, the city of Gwadar is set to become South East Asia's new hub for trade, tourism and investment.