The inauguration ceremony of the Chinese-built Eastbay Expressway of Gwadar Port was held on 3rd June, 2022 in Gwadar by Prime Minister Shahbaz Sharif.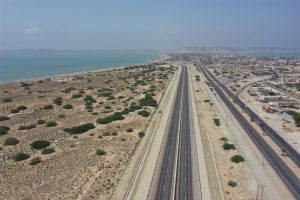 Officially commenced in 2017 by the China Communications Construction Company, the project comes under the China-Pakistan Economic Corridor (CPEC) and aims to meet the needs of the local community in Gwadar by promoting sustainable development of the area. The 19.49 km long Expressway will connect the Gwadar Port with the Makran Coastal Highway, while providing a link to Karachi.
The six-lane Eastbay Expressway is considered to be the main artery of the Port through which entire traffic will flow. Built with the objective of providing primary connectivity of the Port and its Free Zone with the network of National Highways, the Expressway will ensure smooth logistic transportation of imports, exports and transit goods.
While addressing the ceremony, Prime Minister of Pakistan, Shahbaz Sharif expressed his gratitude to China for the grant as he said, "China has built a very high-quality expressway which links the port to the coastal highway ahead." 
The Eastbay expressway will enhance connectivity and help the transportation of goods from the port all the way to the country's southern port city of Karachi in the future, said the prime minister.
He added, "Pakistan is determined to speed up the development of Gwadar. China has donated solar panels to thousands of families in Gwadar, helped the construction of a hospital and other livelihood infrastructures, and will fund a desalination plant as well." 
Sharing his thoughts, Pang Chunxue, Charge d'Affaires, Chinese Embassay to Pakistan, said, "China attaches great importance to people's livelihood in Gwadar, and is willing to continue promoting the development of Gwadar's healthcare, education, vocational and technical personnel training and other livelihood fields."
Pang also ensured that during the development of Eastbay Expressway the concerns of local fishermen were kept in full consideration.
He added, "When the New Gwadar International Airport is completed in the future, it will work with the Eastbay Expressway to promote Gwadar as a regional transportation hub and create a better life for the local people."
China will strive to continue to help solve local people's problems such as shortage of electricity and fresh water, and promote the construction of a smart, green and modern Gwadar Port, so that local people can share the high-quality development of the CPEC, Pang said.