The CPIC Global Mobile App
The best way to stay informed, control your investments, make payments, refer your friends and much more!
The CPIC Global official app is now available in both the Apple/iTunes App store and on Google Play store. Key features of the app include push notifications and alerts for payments, top news from Gwadar & CPEC, construction updates, our upcoming events and many more.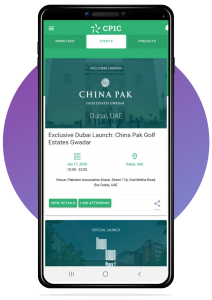 Main features:
Clients will be able to manage their Plots & Finances directly via the app!
Learn about our Upcoming Events & Register at a touch of a button.
Receive Exclusive Construction Updates about CPIC projects.
Make quick payments & monitor your Installments.
Get latest news about CPIC, Gwadar & CPEC.
Learn about our latest Promotions & Offers.
Download the CPIC Global app for iOS and Android devices now and leave us a 5 star review!