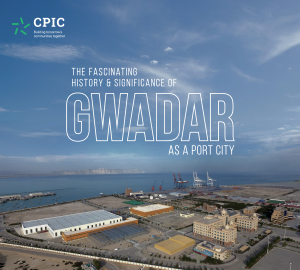 Gwadar has a rich history dating back over 5,000 years, with various empires and dynasties including the Persian, Arab, and Portuguese ruling over the city at different times. However, Gwadar's significance as a port city was not fully realised until the 21st century when the government of Pakistan launched a major development initiative to transform it into a world-class trade and investment hub.
Gwadar's strategic location makes it a key transit point for international trade between Asia, the Middle East, and Africa. It is situated on the southwestern coast of Pakistan, close to the Strait of Hormuz, which is a major shipping route for oil tankers travelling from the Middle East to the rest of the world. Gwadar is also situated near the Arabian Sea, which makes it an ideal location for trade with the Gulf countries, as well as Africa and Europe.
The deep-sea port of Gwadar has been identified as a crucial component of the China-Pakistan Economic Corridor (CPEC) and is expected to play a pivotal role in transforming the economic landscape of the region. The development of Gwadar as a port city has been a key priority for the government of Pakistan over the past two decades.
The development of the deep-sea port has also been a major focus, with the port's capacity set to increase from its current level of 1.2 million tonnes to 300 million tonnes per year by 2030. As a result of these initiatives, Gwadar has emerged as a major trade and investment hub in the region, attracting interest from international investors and businesses looking to tap into its vast potential.